London, England – October 17th, 2022
LUNIQ, today announced that it has signed a partnership agreement with Canadian-based Inuvika to resell and provide hosted solutions using Inuvika's application delivery platform, OVD Enterprise.
Through this new partnership, LUNIQ can provide its customers with an innovative, cost effective, and less complex platform from which to deliver their applications and data.
LUNIQ are able to assess, design, deploy, and manage the Inuvika solution using the tried and tested ADDaM methodology. LUNIQ can also deliver Secure Applications-as-a-Service through a subscription-based model. Leveraging the LUNIQ Cloud offering we are able to deliver Inuvika solutions running in the UK in Government level certified data centres. Taking this unique approach enables LUNIQ to provide its customers, who typically are unable to run end-user services in the cloud, the ability to do just that.
"Adding Inuvika to our solutions portfolio allows us to provide our customers with a fully featured application delivery platform, enabling their workforce to work the way they want to. Coupled with our secure cloud hosting platform we can now deliver this new capability to customers who previously could not take advantage of this type of consumption model."
William Vargo
Managing Director, LUNIQ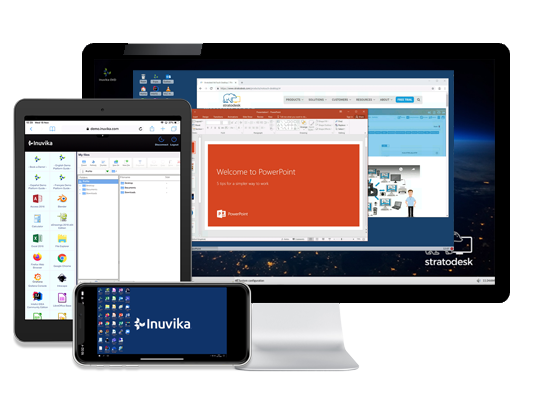 Inuvika OVD Enterprise, via its Linux appliance-based brokers, delivers applications and data to any end point including PC, macOS, Linux, Android, iOS, and Chrome OS, seamlessly integrating the application icons onto the desktop of the device. This approach drives out the cost and complexity when compared to other competing solutions and includes secure web access, its own authenticator app, with a seamless end user experience.
About LUNIQ
LUNIQ are cloud computing and infrastructure experts with over 15 years of experience working within the UK Defence Industry. We empower our customers to innovate with best-in-class solutions and technologies. LUNIQ prides itself on providing a best-in-class experience for our clients. Our consultants are highly-experience and experts in their respective fields.
Taking this in-depth knowledge LUNIQ can solve the most demanding challenges our clients face today with their Digital Transformation journeys building the foundations for your company to deliver competitive advantage and secure a thriving digital economy.